Every week I assemble a collection different apps, tools and resources that can do help make your work and maybe even your life a little bit better. (And occasionally even a lot better.)
This week's "App of the Week" might forever change the way you look at audio and video editing.
Here is your weekly serving of the Tech Tuesday Toolbox.
App of the Week
Record. Transcribe. Edit. Mix. As easy as typing. Take control of your audio and video with Descript. In addition to easy editing, the Overdub feature lets you create ultra-realistic text to speech of your own voice. Check it out and learn more at https://www.descript.com/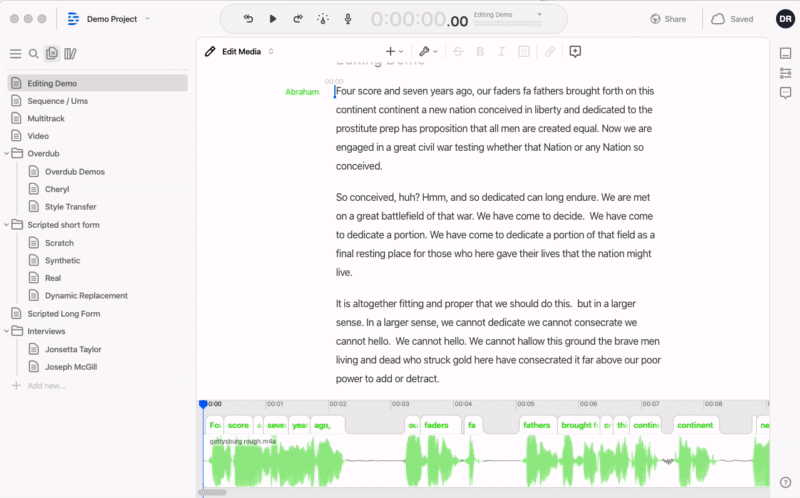 ---
Apps of the Day
The Visual Workspace | Whimsical
Communicate visually at the speed of thought – collaborative flowcharts, wireframes, sticky notes, and mind maps.
Get Office Lens – Microsoft Store — www.microsoft.com
Office Lens trims, enhances, and makes pictures of whiteboards and docs readable. You can use Office Lens to convert images to PDF, Word and PowerPoint files, and you can even save images to OneNote or OneDrive.
Promptr is a great, easy to use, and free browser-based TelePrompter
Notion – The all-in-one workspace for your notes, tasks, wikis, and databases. — www.notion.so
A new tool that blends your everyday work apps into one. It's the all-in-one workspace for you and your team
---
Contenders
Graphic Designer – Create Amazing Graphic Design for Free | DesignCap DesignCap is a free and powerful graphic design tool that empowers you to create high-quality designs in seconds without any professional skills. Try it now!
POWr | Secure Registration Forms for your Zoom meetings & webinars. Supports donations, payments, and custom autoresponder emails. Add to any website!
Singlelink – A free & open-source Linktree alternative — singlelink.co One link for all your content, open-sourced via GPL v3 and built with NuxtJS, MongoDB, and NodeJS.
Grammarly: Free Online Writing Assistant — www.grammarly.com Millions trust Grammarly's free writing app to make their online writing clear and effective. Getting started is simple — download Grammarly's extension today.
Screely – Generate Website Mockups Instantly turn your screenshot into a beautiful website mockup. Customize the browser mockup window, background and much more
Fready | The actually effective speed reading tool Increase your reading speed without sacrificing comprehension. A science-backed word pacer that moves like a finger on a book. No BS.
LT Browser for Live Mobile Testing | Test on mobile and tablet simultaneously on our browser and debug user issues and see their impact on the go on over 25+ devices!
Online Ticket Sales | Event Ticketing Online ticketing the way it should be: easy-to-use with all the features you need. Set up your event for free and start selling tickets immediately!
All your video needs in one place | Clipchamp Convert videos to MP4. Compress and edit videos. Record with your webcam and collect videos from others. Clipchamp's products cover all of your video needs.
Free prototyping tool for web & mobile apps – Justinmind Easily create web and mobile app prototypes and wireframes with Justinmind UI prototyping tool. It's FREE. Start prototyping now!
Generate RSS out of any Web Page
Generate RSS out of any Twitter list, YouTube playlist, etc
Discord | Your Place to Talk and Hang Out Discord is the easiest way to talk over voice, video, and text. Talk, chat, hang out, and stay close with your friends and communities.
iLoveIMG | The fastest free web app for easy image modification. — www.iloveimg.com
iLoveIMG is a web app that lets you modify images in seconds for free. Crop, resize, compress, convert, and more in just a few clicks!
Free Avatar Illustrations: Download Free Avatars For Your Website Or App — limitlessdesigns.io
Limitless Avatars is a collection of free avatar illustrations for your next project.
Build your CV easily with a Google Spreadsheet — spreadcv.com
Build your own online resume/CV page easily in minutes.
Free Email Marketing | AWeber — www.aweber.com
Powerfully-simple email marketing so you can grow your business – now for free. Great for learning campaigns.
Creately | Chart, Diagram & Visual Canvas Software
Visual software to draw and collaborate on ideas, concepts and processes. Use it as a chart and diagram maker/collaboration tool/visual space. Free to start.
Joe Schmoe | An illustrated avatar collection
An illustrated avatar generator for developers and designers
Cleanmock | Mockup your designs simply and beautifully.
Create stunning mockups using latest device frames like iPhone X & custom backgrounds that make your mobile or website design standout, right from your browser quickly & for free.
Use your phone as a webcam on your PC! DroidCam turns your mobile device into a webcam for your PC. Use it with chat programs like Skype, Zoom, Teams, or with live streaming programs like OBS.
---
Did you find an awesome app or tool? Please share it so I can include it here in a future edition.
---
Processing…
Success! You're on the list.
Whoops! There was an error and we couldn't process your subscription. Please reload the page and try again.